CEREC Same-Day Dentistry
Our team work hard to stay current on the latest advances in dental technology and techniques. We utilize state-of-the-art dental equipment, including CEREC one-visit restoration technology, to help us provide you with the best possible dental care and experience. CEREC technology allows our team to provide you with a custom-made, high-quality dental restoration in a single visit to our office. Traditional dental techniques require at least two visits to complete many dental restorations; CEREC technology saves you time and discomfort by eliminating the need for a second visit. With CEREC technology, we can create many types of dental restorations in just one visit, including: Dental crown, bridge, inlay, onlay, veneer, and implants!
With CEREC one-visit restorations, you will have no need for uncomfortable temporary crowns. In addition, CEREC uses advanced scanning technology to design the restoration, eliminating the need for messy impressions. CEREC one-visit restorations are created from high-quality porcelain that is matched to your individual tooth color, so your restorations will look beautiful and natural for years to come.
Here are some other advantages associated with CEREC®:
Cost effectiveness.
Fewer dental visits.
Minimal invasiveness.
Biocompatible solutions.
Long lasting restorations.
No temporary restorations.
More natural tooth is saved.
High-quality ceramic products.
Less injections and discomfort.
Why choose CEREC?
Better fit and comfort
CEREC uses advanced digital technology so the restoration will have a much better fit. This superior fit reduces small gaps between your teeth, making it difficult for bacteria to hide and gum disease and tooth decay to grow.
Metal-free
Another health benefit is that CEREC restorations are completely metal-free. This is a huge benefit since metal restorations can contain toxic metals that are potentially dangerous to your health.
Durable & beautiful
Not only will your CEREC restoration promote a healthy tooth structure and gumline, studies prove that CEREC restorations are durable, long-lasting, and look and feel like your real teeth.
CEREC vs. Traditional Restoration
CEREC is a marvel of engineering and technology. To truly appreciate its benefit, you need to understand the traditional process for dental restorations. From preparing a tooth for a restoration, to placing the finished product, the traditional methods for receiving a dental restoration are time consuming, uncomfortable, and tedious. In fact, a traditional lab-made restoration can take several weeks, and sometimes months!
Take a look at the typical process for receiving a lab-made dental restoration:
An impression is made of the tooth using a gooey and uncomfortable mold. The dentist fits your tooth with a temporary restoration while you wait for the final version. Temporaries are often weak, unsightly and can fall off. The final mold of your tooth is sent to a lab where they will create the restoration. This will take several weeks. Once the restoration is completed, you'll visit the dentist for another appointment, get numb again, then finally get the restoration placed.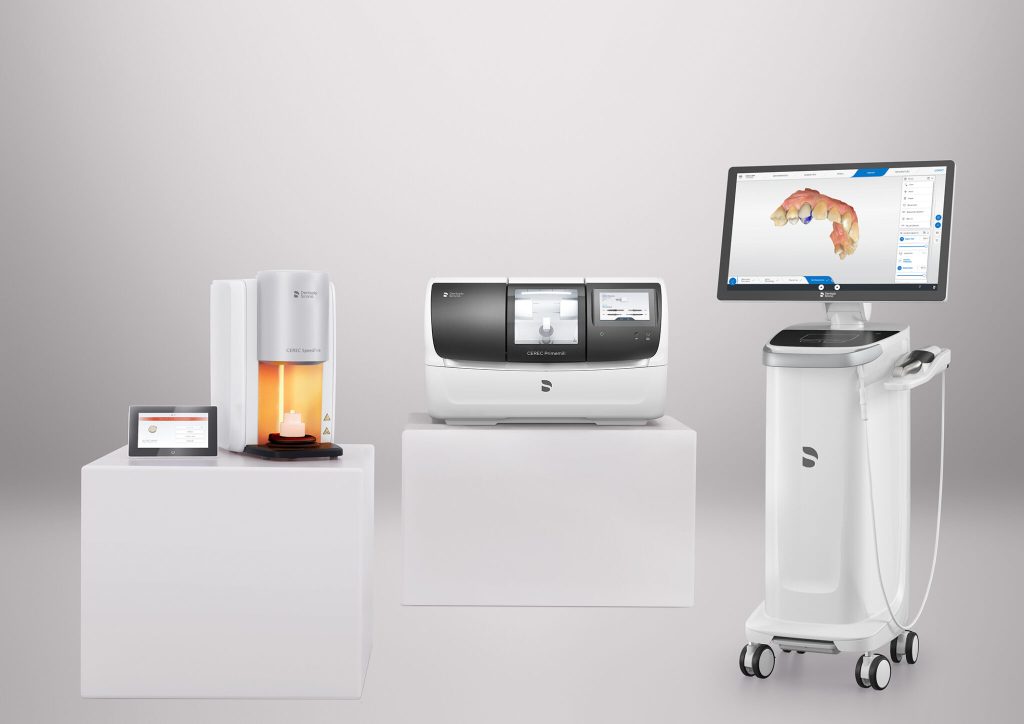 Whether you need a crown, bridge, inlay, onlay, veneer, implants, or other tooth restoration treatment, don't settle for anything less than the best. At VIBE Dental, we're proud to offer the CEREC system as the safest, most effective way to restore your teeth in a single visit. For more information on the advantages of CEREC one-visit restorations and our other advanced technology, we welcome you to call or visit us today! (480) 800-8423