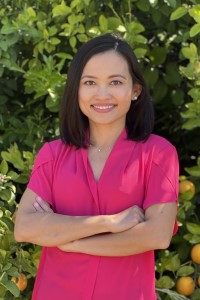 Dr. Josie Oliva earned her dental degree from the University of Illinois and from there entered into private practice in 2009. She is passionate about promoting preventive care and emphasizing the oral-systemic health connection. She loves learning about advances in clinical dentistry and treating patients of all ages. She spends her free time enjoying the outdoors with her family and volunteering to causes dear to her heart.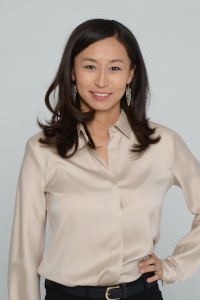 Dr. Marshall is the kind of dentist who likes to first make a human connection with her patients. She takes her time with you to ensure you understand what's happening inside your mouth. She grew up partly in the United States and partly in Korea, making her fluent in both languages. She received her doctorate from both countries as well, finishing her studies at the University of California, Los Angeles in 2012. In addition to practicing dentistry, she has also taught dentists from all around the world the skills they need to become licensed in the United States. She finds both the practice of dentistry and teaching gratifying and fulfilling.
Dr. Daniel J. Lyu earned his Doctor of Dental Surgery from New York University College of Dentistry in 2007 and completed his general practice residency at Lincoln Medical Center in the Bronx in 2008. Dr. Lyu attended multiple continuing education courses given at the Spear Institute and Zimmer Biomet, focusing on implantology and aesthetic dental restorations. Dr. Lyu has completed 300 hours of education in the American Academy of Implant Dentistry MaxiCourses® at University of Nevada, Las Vegas, and he is pursuing certification in implantology. He has also earned the distinction of Fellow of the Academy of General Dentistry in the fall of 2022. Dr. Lyu is an active member of the American Dental Association®, Arizona Dental Association, American Association of Implant Dentistry and American Society of Forensic Odontology.
Outside of the office, Dr Lyu enjoys golf, fishing, and spending time outdoors with his wife, Jennifer, and their two children, Alexander and Olivia.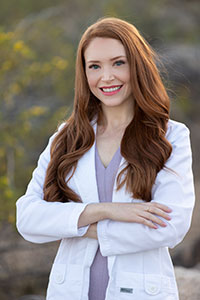 Dr. Stephanie Troglin enjoys making a difference in people's lives, whether it is easing a patient's anxiety, increasing their confidence in their smile or improving a their overall oral health. Her goal is to provide her patients with gentle, comfortable and compassionate dentistry with the highest level of quality care.
Dr. Troglin received her dental degree from the Oregon Health & Science University School of Dentistry. She is a fellow of the Academy of General Dentistry, an honor that only about six percent of general dentists obtain. She likes to keep up with evolving dental technology and is Invisalign® and Botox® certified. She has also served in leadership positions for the Arizona Academy of General Dentistry and Arizona Dental Association.
In her spare time, Dr. Troglin enjoys spending time with her husband, daughter and two dogs. She loves hiking, crafting and traveling. Dr. Troglin has volunteered with the Global Dental Brigades in Honduras, Mission of Mercy and Give Kids A Smile.
Meet Our Team
VIBE Dental is proud to present our amazing team! Professional and bubbly, our friendly team loves helping our patients get the most out of their smile. We are glad to provide a comforting atmosphere for you to enjoy as we see to your dental care in Mesa, Arizona. Call us at 480-800-8423 to learn more about our dentists and team and schedule a visit with us!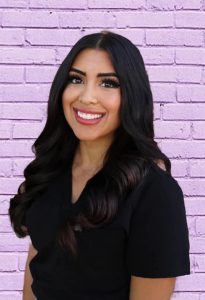 Brandie earned her Bachelor of Science in dental hygiene at Loma Linda University School of Dentistry in Loma Linda, California. Brandie is passionate about empowering her patients to take control of their oral health, educating them on dental hygiene, and developing long-lasting relationships. She finds ways to give back to the community by giving free dental cleanings at charity dental clinics in the United States and in Mexico. She enjoys all things fashion, and she loves trying out new restaurants and coffee shops, singing, traveling, and spending time with her husband, cat and two dogs.
Sally has worked in dental hygiene ever since graduating from Temple University in 1984. While there, she assisted resident dental students in oral surgery and physical therapy and developed her lovely chairside manner. She worked in periodontics and endodontics before joining the Naval dental clinic in Charleston, and in 1992, she moved to Arizona to raise her family. When she is not in the office, Sally enjoys hiking, camping and fishing. She hopes to go whitewater rafting one day!
Mariam is a transplant from California, where she was born and raised. She has worked in the front office since 2007 and is highly knowledgeable about dental insurance and benefits. She will help ensure that patients not only understand their treatment but also get the optimal coverages as well. In her free time, she likes to travel the world and visit new places. She has a little bunny named Thumper, a dog named Lola and a Leopard Gecko named Hydro, and she loves spending time with her family.
Victoria
Patient Coordinator
Victoria has been in dentistry since 2007. Her dental philosophy is to create a positive and friendly environment to make her patients as comfortable as possible. It is her passion to work in the dental field, which shows through her hard work and dedication to each patient she encounters. She is a loving, caring and compassionate mother and wife and loves spending quality time with her family in her free time.
Cat is originally from St. Louis and has been in Arizona since 2013! She loves being in dentistry and could not be happier with her career. She loves connecting with her patients and ensuring that they are comfortable for their treatment. During her time off, she enjoys rollerblading, playing her instruments and touring art museums.
Sophie
SOCIAL MEDIA COORDINATOR